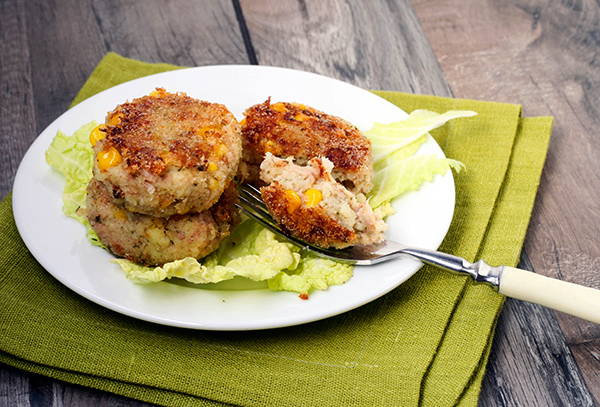 Tuna Fish Cakes
2015-03-10 03:48:18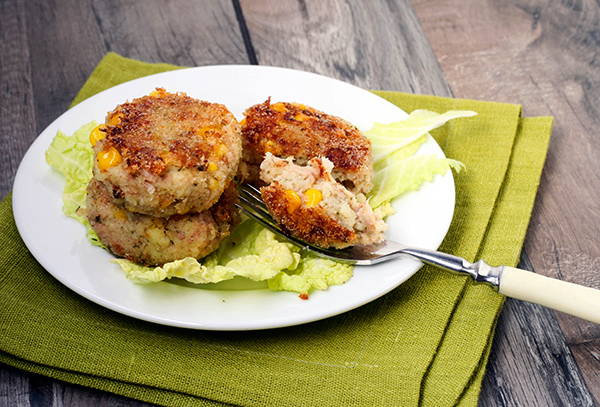 Serves 4
These yummo microwave tuna cakes are soft on the inside and crunchy on the outside, perfect for the little kids (and the big ones) in your family.
Ingredients
350 g potatoes
25 g butter
1 small onion, finely chopped
200 g can tuna, drained
70 g corn kernels, drained
1 egg, hardboiled, chopped
2 tbsp fresh parsley, chopped
2 tsp lemon juice
salt and pepper
1 egg, beaten
100 g breadcrumbs
Instructions
Cook potatoes with 45 ml (3 tbsp) water, covered on HIGH power for 6-8 mins. or until cooked. Drain.
Place butter and onion in a bowl, cover and cook on HIGH power for 4 mins. or until soft.
Add potatoes and mash.
Stir in tuna, corn, hard-boiled egg, parsley and lemon juice, season well.
Shape into 8 cakes and coat in beaten egg and Breadcrumbs.
Place on grill rack and cook on Combination: GRILL 1 and SIMMER power for 16-18 mins. or until brown, turning halfway.
The Ideas Kitchen https://theideaskitchen.panasonic.com.au/