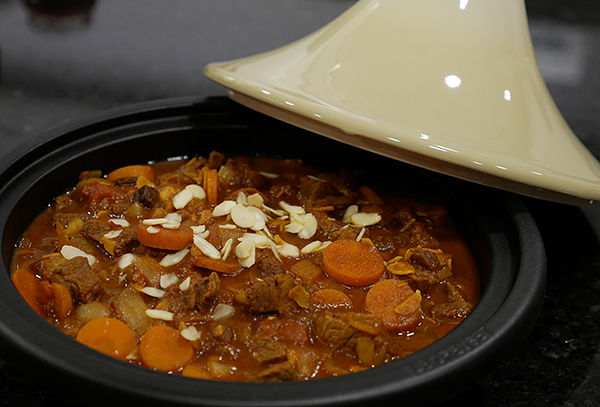 Spicy Lamb Tagine
2017-04-18 06:32:58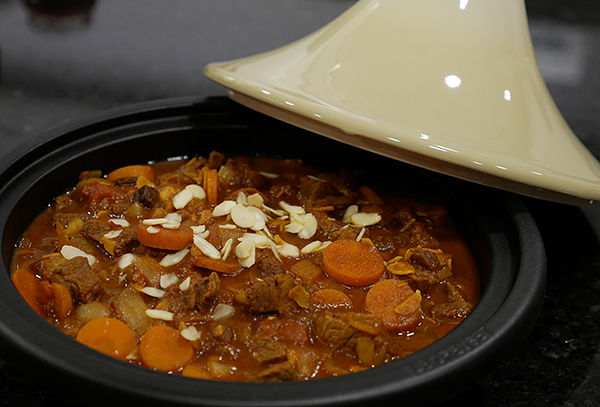 Serves 6
Don't be alarmed by the long list of ingredients – this spicy lamb tagine is incredibly easy to make! The wonderful mix of spices give the lamb a delicious depth of flavour and your microwave cuts out all the hard work. Made using a
Panasonic microwave
.
Ingredients
¾ tbsp ground ginger
½ tsp coarsely ground black pepper
1½ tsp ground cinnamon
¾ tbsp turmeric
1 tbsp paprika
¼ tsp chilli powder
800g cubed boneless lamb
2 tbsp oil
300g onions, chopped
2 crushed garlic cloves
¼ tsp salt
150g sliced carrots
150g ready to eat dried apricots, chopped
40g sultanas or seedless raisins
65g toasted flaked almonds
¾ tbsp honey
150 ml tomato juice
400g can of chopped tomatoes
300ml (½ pint) hot vegetable stock
Instructions
Put the lamb and spices into bowl and mix well, put to one side.
Place oil, onions and garlic in a large (3 litre) casserole dish.
Cover dish with lid and cook on HIGH MICROWAVE for 5 mins.
Add the spiced lamb and remaining ingredients to onion mixture and mix thoroughly.
Cover and cook on CONVECTION 160°C + WARM MICROWAVE for 1 hour or until tender, stirring halfway.
Serve straight from the casserole dish, or in a traditional tagine pot for added flair.
The Ideas Kitchen https://theideaskitchen.panasonic.com.au/