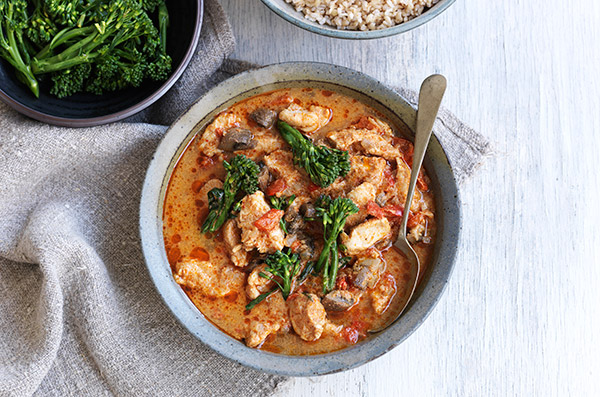 Red Chicken Curry
2015-10-12 03:28:01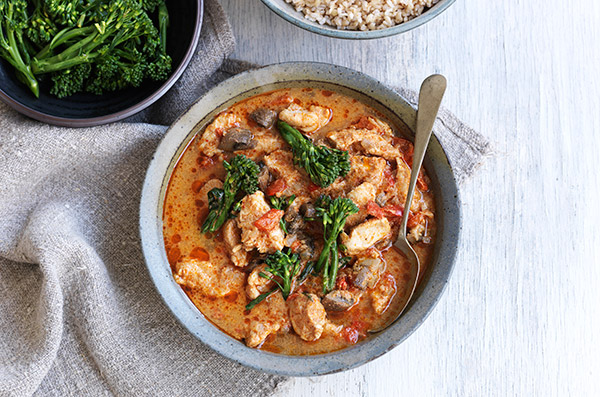 Serves 4
Get more variety from your rice cooker with this easy chicken curry. At first glance you could be forgiven for thinking that a rice cooker only cooks rice. However, a Panasonic rice cooker is capable of that and so much more. From soups, to slow-cooked stews and even desserts, you'll be impressed by the multitude of dishes these wonders can turn out. In this recipe we show you how to make short work of a delicious red chicken curry, using a
Panasonic SR-ZE105 rice cooker
.
Ingredients
1 ½ tbs coconut oil
1 brown onion, diced
1 red capsicum, diced
600g chicken breast, diced
1 tbs red curry paste
1 cup chicken stock
200g brown mushrooms, sliced
½ cup coconut cream
1 bunch broccolini, trimmed
Instructions
Press Cook on the rice cooker, place oil in the pan then add onion, capsicum and chicken; cook and stir in 5 mins or until onion is tender and chicken is browned.
Stir in the red curry paste.
Add the warm stock, mushrooms and coconut cream. Close the lid and hit cook.
After cooker has switched over to Warm, turn off the rice cooker and stir in the broccolini.
Let stand for 5 mins.
Serve with rice.
The Ideas Kitchen https://theideaskitchen.panasonic.com.au/