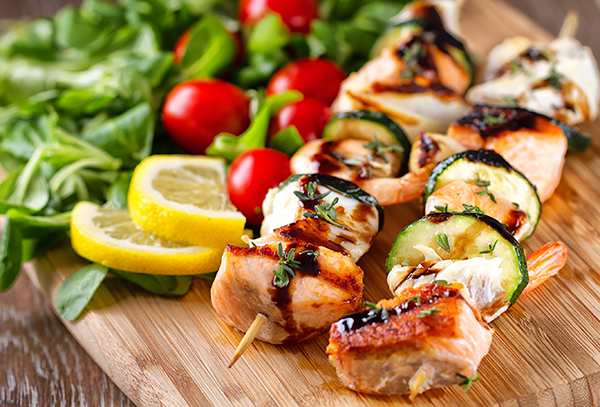 Healthy Fish Kebabs
2015-03-10 03:39:37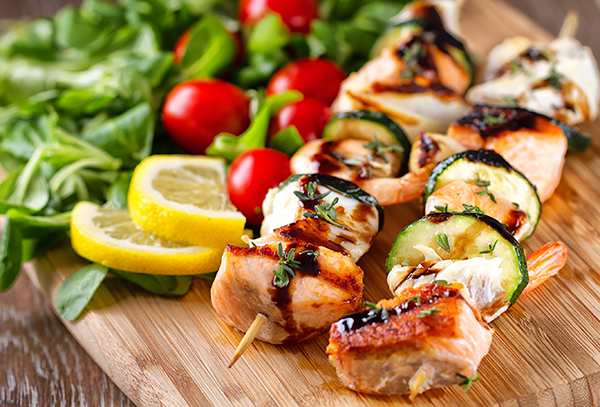 Serves 4
Kids love kebabs, and these colourful little versions featuring tender chunks of fish are a great way to get some healthy Omega 3 into your little ones for some brain-boosting power.
Ingredients
1 yellow pepper, deseeded and cut into pieces
250g of cod or salmon, cubed
8 cherry tomatoes
Marinade:
½ small onion, grated
60ml olive oil
60ml lemon juice
2 cloves garlic, crushed
30g fresh parsley, finely chopped
Instructions
Prepare the kebabs by threading fish cubes, pepper pieces and tomatoes alternately onto 8 wooden skewers*.
Place on the glass tray.
Mix all the marinade ingredients thoroughly, then pour over the kebabs.
Cover and leave to marinate in the fridge for at least 2 hours.
Place the glass tray on the wire shelf in the lower position and cook on GRILL 1 + SIMMER MICROWAVE for 8-10 mins.
Turn during cooking. The fish should flake easily once cooked.
Serve hot.
The Ideas Kitchen https://theideaskitchen.panasonic.com.au/